Retro Dunhuang Impression Fu Lu Ercai Gaiwan
Regular price

$0.00 USD

Sale price

$50.00 USD
Share
Inspired by Dunhuang Mogao Cave Murals: The design of this Gaiwan is inspired by the Dunhuang Mogao Cave Murals in China. The Dunhuang Mogao Caves are treasures of ancient Chinese art, renowned for their diverse and exquisite murals. By combining elements from the Dunhuang Mogao Cave art with traditional tea ware design, this Gaiwan showcases a unique retro style and cultural charm.

Made from Natural Mineral Clay: This Gaiwan is crafted from natural mineral clay, preserving the natural texture and characteristics of the soil. The mineral-rich clay contains trace elements, giving the product a purer and more natural essence. Additionally, the use of natural mineral clay adds a unique texture and tactile experience to the Gaiwan.

Kiln Variegation Technique: The Gaiwan is fired using the kiln variegation technique. Kiln variegation is a ceramic production technique that creates color variations and textured effects through a special firing process. This technique imparts distinctive color changes and patterns to each Gaiwan, making it a one-of-a-kind piece of art.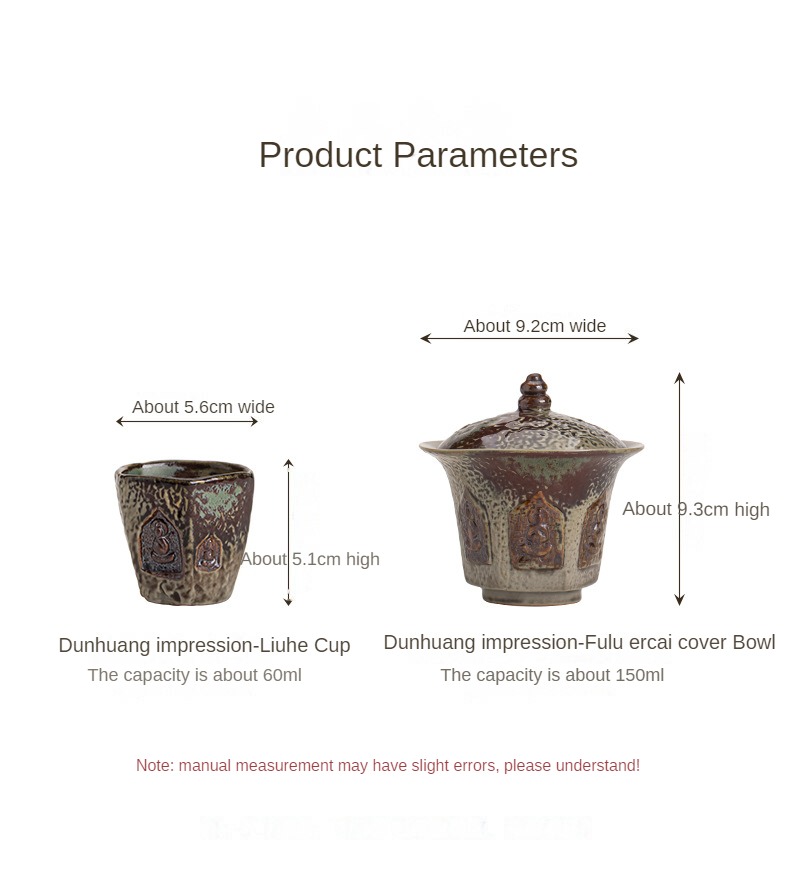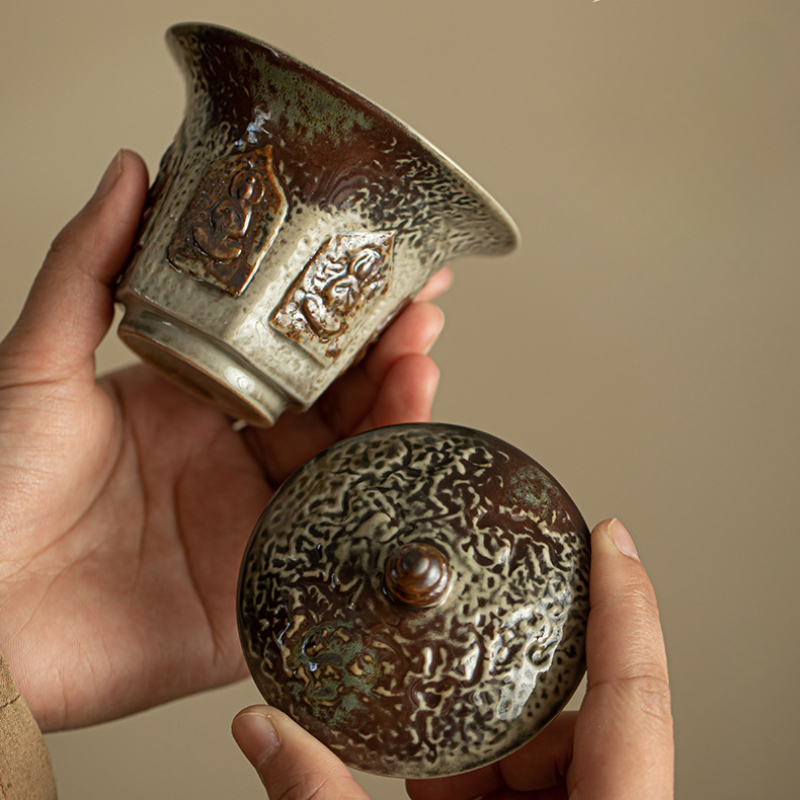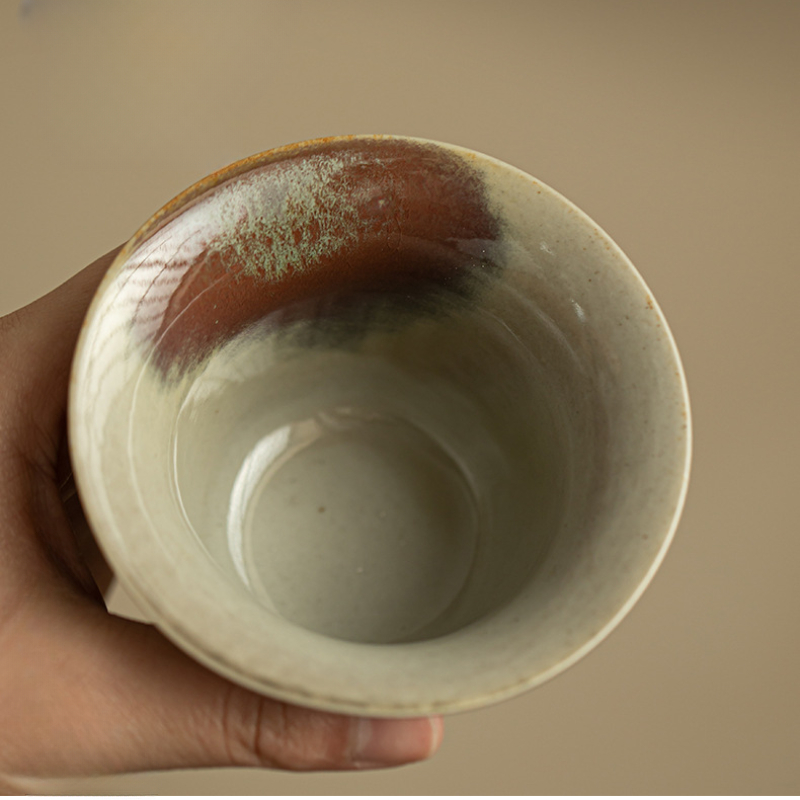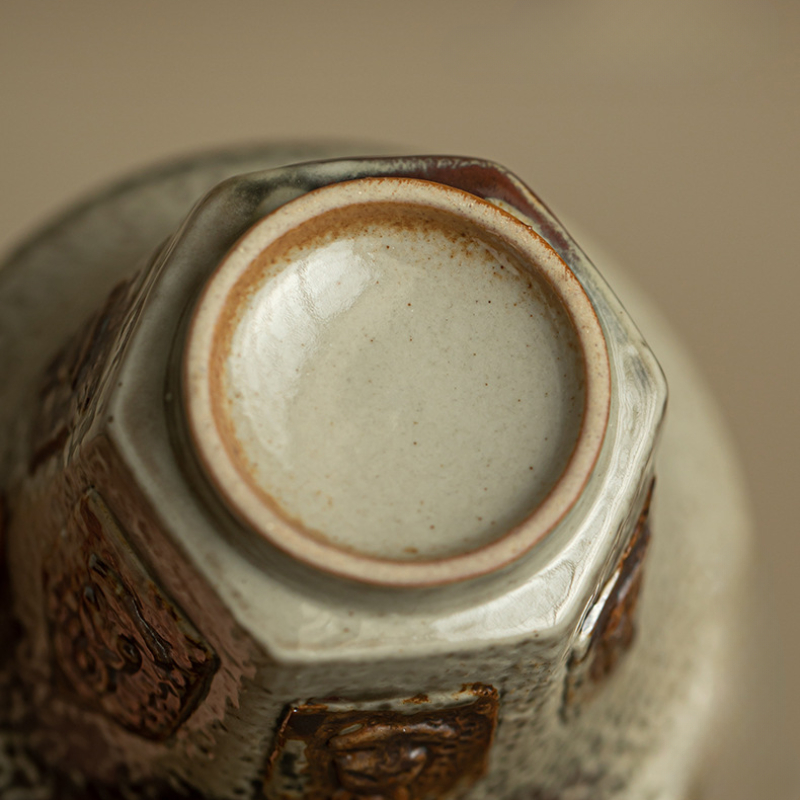 Description

Unique Design: 

Gaiwan is a traditional teaware that consists of three parts: a lid, a bowl, and a saucer. The bowl has a wide opening, which allows the tea leaves to expand and release their full flavor. The lid is used to cover the bowl during brewing, while the saucer is used to hold the Gaiwan and catch any spills, protecting against scalding.

High-Quality Material: 

This Gaiwan tea set is made from high-quality porcelain, which is known for its delicate and elegant appearance. Porcelain is also durable and can withstand high temperatures, making it an ideal material for brewing tea.


Steeping control: 

The Gaiwan allows for greater control over the steeping process, giving you the ability to adjust the steeping time and water temperature to bring out the optimal flavors and aromas of the tea leaves.


Improve the taste: 

Unlike metal or plastic, porcelain is a neutral & non-porous material which means that it won't absorb the flavors or aromas of the drinks, ensuring that you get the full, authentic flavor of the drinks.

Versatility: 

Gaiwan can be also used for coffee, milk, hot soup or other liquids, which offers the same benefits for coffee as it does for tea, such as control over steeping time and water temperature, the ability to strain loose coffee grounds, and the use of a neutral material that does not interfere with the flavor of the drink.

Decorative Value: 

Beyond its functional use, this Gaiwan tea set is also a work of art that can be appreciated for its beauty and craftsmanship. It may be displayed on a shelf or used as a decorative accent in a room with an oriental or minimalist aesthetic.

Tea Ceremony: 

Using a gaiwan tea set is a form of mindfulness practice, helping to focus the mind and cultivate a sense of calm and serenity. The careful attention paid to the tea leaves, the infusion process, and the serving of the tea can all help to create a meditative state and a deeper appreciation of the tea and the tea-drinking experience.
Specification

Material: Porcelain
Crafts: Handmade
Package include: 1*Tea lid, 1*Tea Bowl, 1*Tea Saucer
Shipping

COMPLIMENTARY TRANSNATIONAL SHIPPING

We are currently offering complimentary shipping on all orders $99.99.

 

SHIPPING CHARGES

Standard Shipping- $9.99.

*Please allow 1- 4 days for processing on all orders. 

 

DELIVERY AREA

Currently, Support worldwide delivery.

 

DELIVERY TIME

The product will ship within 1-3 business day after purchase, and delivery will take around 10-20 business days. Delivery may take a longer time in holiday shopping season.

 

SHIPPING METHODS

Please make sure all the shipping information you provide to us is correct. If you need to change your address before your product is dispatched, please don't hesitate to contact us. We will help you contact the relevant logisitcs supplier, but we will not be held responsible for any package damage, loss, or delay caused by incorrect shipping information customers provide nor caused by the shipping carrier during the transportation.

Standard shipping is not available for P.O. Boxes or APO/FPO addresses.

 

TRACK YOUR ORDER

The tracking of your parcel is online traceable. After your order is shipped out, a confirmation email with online tracking number and link will be sent to you. The tracking number will be valid for your check within 48 hours after you receive the email. During Holiday Season, Orders with Standard Shipping will not be traceable when the parcels arrive in the United States. It is because USPS website will no longer update the information about shipping package.

ALL LOGISTICS CHANNEL

ALL-IN-ONE PACKAGE TRACKING | 17TRACK

If you have any questions about the shipping of your order, please feel free to contact us service@gloriouscollection.com

 

WRONG OR FAULTY ITEM

If you check that there is a fault with an item or wrong item you have received, please let us know straight away through our team. Please include as many details including the photos as possible about the order and the problem with the items and we will find a decent way to solve this for you.

 

MISSING ANY ITEMS IN MY ORDER.

As different arrivals of the items, sometimes we don't send all items you've ordered at the same time, so some of your items will be arriving separately. There is an email saying if your items sent separately. So first check your email box and if there are any doubts, please feel easy to contact us at service@gloriouscollection.com

If you have any further questions, feel free to contact us support team: service@gloriouscollection.com
Returns & Refunds

Terms and Conditions:

Items directly purchased from gloriouscollection.com can be returned in 30-days for a full refund or exchanged under the following circumstances:

Missing, Damaged, or Wrong Items.
Please inspect your order as soon as you receive it. We always do our best to deliver your order in an efficient manner and strive to make sure your orders are complete and undamaged. If in the unlikely event your order is missing, incorrect, or damaged, please contact us immediately.
Malfunction or Serious Product Quality Issues.
Take a picture of the defective/incorrect item(s) showing the issue.
Email us at service@gloriouscollection.com

Notes:

30 day Return Policy: If you do not like/are not satisfied with an item within 30 days of receiving it, you can return the item for a refund or an exchange providing it is in the condition they were received in. Products must be returned in the condition they were received in. If products show evidence of installation or user abuse, or are not in a resalable condition when returned, then the user will not be eligible for a refund or exchange. Should you with to make a refund or exchange, you will be liable for return postage costs.

Any item that is damaged through customer misuse or missing parts due to customer tampering cannot be returned or refunded.

Before returning an item, please make sure that you contact our service team at service@gloriouscollection.com, this helps us to make sure your return is received in a safe and timely manner. Should you fail to notify us of a return being made, We will not be held accountable for loss of stock and/or losses incurred due to negligence when in transit.

For non-quality-related warranty claims,the buyer will be responsible for all shipping costs.

Return and Refund Procedure

If you are looking to apply for a return or refund,please email the following information to service@gloriouscollection.com, we will send a confirmation email to you within 3 business days of your request.


Order ID

A description of the reason for your return

A video/image that explains the issue

We will confirm if the package is unopened or not, and will supply a return address to customer.

Customer will then send back the package and device.

Customer must then provide a tracking number for their delivery.

Our processing centre will confirm there are no issues with the return.

Refund will be processed.

Cancellation

The customer can cancel the order before the goods are delivered.
Payment Methods

Pay with Shopify Payment

 

When you pay with a credit or debit card, you need the name printed on the card, the card number, the month and year the card expires, and the 3-digit or 4-digit security code. This information, along with the billing address for the credit card, must be entered during the purchase process. We accept the credit/debit cards listed above. Please note that Glorious Collection does not save your credit/debit card number or personal information entered into the payment fields when you make a payment. For questions regarding your transactions on your credit/debit card, please consult the bank that issued your credit/debit card.

Pay with Paypal

 

When you choose to pay for an order via PayPal you will be redirected to the PayPal payment page, where you can log in with your PayPal username and password. If you do not have a PayPal account, or if you do not want to use your PayPal account, you may still pay via PayPal, by clicking on the "Pay with Debit or Credit Card" option on the PayPal payment page, and you will be redirected to a secure page where you can first enter your email address and then enter your credit card information to complete your payment safely via PayPal.

If you have any further questions, feel free to contact us support team: service@gloriouscollection.com
Apply My Discount

Subscribe Us-Get 10% OFF

Unlock exclusive benefits by subscribing. By becoming our subscription member, you will receive our exclusive event offers and gifts, and quickly learn about our new products and news.

How to Claim Your Discount?

When you successfully subscribe to our email, we will send you a 10% discount code via email.

Add Our WhatsApp-Get 10% OFF

Add our WhatsApp and you will be able to solve your after-sales problems up close. And we will have exclusive membership activities open to you. You will have the opportunity to get a bigger discount and the chance to become our partner.

Chat with us: +1 659 2532919

How to Claim Your Discount?

When you have successfully added our WhatsApp, you initiate a conversation with us to apply your exclusive discount.

Follow Our Social Media-Get 5% OFF

Our social media platforms will update from time to time to let you know more about our products and unlock more fun ways.

How to Claim Your Discount?

When you successfully follow our social media account. You can apply for a discount through Inbox, and we will provide you with an exclusive discount code. Or apply for a discount through our customer service.

Email us: service@gloriouscollection.com

Chat with us: WhatsApp: +1 659 2532919
When oriental gaiwan meet western latte
Due to the unique wide-openning design of the bowl, the gaiwan is more suitable for latte art than traditional coffee cups, as it provides a larger surface area for drawing your latte art patterns.
Additionally, unlike materials such as plastic, glass, and pottery, the porcelain used to make the gaiwan is a neutral, non-porous material that does not absorb the flavor of your drink, making your coffee taste more fragrant and delicious.
FAQs
What's Gaiwan Tea Set?

A gaiwan is a small lidded bowl, usually made of porcelain, ceramic or glass. It holds 100-150 ml and is used for brewing and serving tea.

The lid is round and flat with a handle for easy lifting. It controls temperature, infusion time and strains loose leaves. The lid does not affect the tea's flavor. Unlike metal or plastic teapots, porcelain does not alter the taste. This ensures full, authentic flavor from the tea leaves.

Gaiwans are important in traditional Chinese tea culture. They are essential tools for preparing tea. In tea ceremonies, leaves go in the gaiwan. Hot water is added. The lid controls steeping time. Guests often drink directly from the gaiwan or pass it around.

Gaiwans are prized for their simplicity and versatility. They allow precise control over brewing and can make any tea: green, black, oolong or pu-erh. Today, tea enthusiasts use gaiwans for loose-leaf tea worldwide.

Gaiwans also have cultural significance and beauty. Handcrafted gaiwans may have intricate decorations, making a unique addition to any tea set.

Some key benefits of gaiwans:


They do not affect flavor. Porcelain extracts only the tea's essence.
They enable control and customization. The lid controls steeping time for optimal flavor from each leaf. More leaf or longer steep for subsequent cups.
They facilitate a creative, hands-on process. Adjusting water temperature and leaf amount produces nuanced flavor with each cup.
They have cultural meaning. Gaiwans represent a traditional tea ceremony and passing of tea as a shared, valued custom.
They offer versatility. Gaiwans work for all teas: green, black, oolong, pu-erh as well as snacks, rice or other small foods.
They provide aesthetic value. Decorative, handcrafted gaiwans become treasured objects of beauty and memories.
They inspire mindfulness. The focused, hands-on process of preparing tea with a gaiwan cultivates presence and appreciate for simple moments.

In summary, gaiwans embody the philosophy that the journey is as important as the destination. They make the preparation and sharing of tea an art, rather than a habit. When using a gaiwan, each gesture becomes meaningful, and each cup a new creation.
How to use Gaiwan tea set?

Fill the gaiwan with dry tea leaves: Place a small amount of tea leaves in the gaiwan, making sure not to overfill the bowl. The amount depends on the tea and personal preference.
Heat the gaiwan and rinse the tea leaves: Fill the gaiwan with hot water (around 85-90°C) and swirl to rinse the leaves. This removes dust/debris and warms the bowl for steeping.
Steep the tea: Discard the rinse water and add hot water to the gaiwan. Put the lid on and steep the tea for 2-5 minutes as desired. The lid controls steeping time and can be removed to check strength.
Pour the tea: Hold the gaiwan by the handle and pour the tea into a cup or pitcher, avoiding leaves. Refill the gaiwan with water and re-steep as needed for more cups.
Enjoy the tea: Savor the aroma and flavor. Adjust steeping time and water temperature for next steeps.

Note: Use water at the correct temperature for the tea. Too hot extracts bitterness, too cool produces a weak tea. A thermometer ensures accuracy.

The keys to good tea from a gaiwan are:


Using a quality tea and properly heating the gaiwan to avoid bitterness or weakness.
Rinsing the tea leaves briefly to remove debris before steeping. This helps the leaves unfurl and infuse the liquor.
Measuring the tea leaves and water volume carefully for each steep. Start with a lower leaf amount, as re-steeping the same leaves reduces flavor. Add a bit more leaf for subsequent steeps if desired.
Timing each steep to avoid over-extraction. Check the tea, discard excess leaves and adjust time up or down for the next steep.
Allowing space for oxygenation between steeps. Pouring the tea into a separate container allows it to sit and breathe before the next steep. This helps maintain color and prevent bitterness.
Adjusting the water temperature and leaf amount to achieve your perfect flavor for each steep. The process of repeatedly steeping one batch of leaves allows for customization and nuance.
Appreciating the process and results. Savoring fresh, high-quality tea prepared with care and skill enhances the overall experience of gaiwan brewing.
Why does tea taste better when using a porcelain Gaiwan tea set?

Porcelain is a neutral material that does not interfere with the flavor of the tea. Unlike metal or plastic teapots, porcelain does not alter the taste of the tea, ensuring that you get the full, authentic flavor of the tea leaves.

A gaiwan allows for greater control over the steeping process, giving more control over steeping time and water temperature. This helps bring out the optimal flavors and aromas of the tea leaves.

The lid of the gaiwan can be used to strain loose tea leaves, ensuring only the tea liquid ends up in your cup without any bits of leaves or debris. This not only results in a cleaner and more pleasant-tasting tea, but also helps prevent the tea from becoming too strong or bitter.

In traditional Chinese tea culture, gaiwans are often used in a ceremonial setting. This adds an element of ritual and tradition to the tea-drinking experience. This can enhance the overall enjoyment, making it a more meaningful and special experience.

While using a porcelain gaiwan tea set may result in a better-tasting tea, the quality of the tea leaves and the brewing process are still the most important factors in determining the taste of the tea. A high-quality tea, brewed with the proper technique and water temperature, will taste good regardless of the brewing device.

In summary, the gaiwan allows for greater control, precision and nuance in preparing tea. Its material and design help produce a purer flavor and higher-quality cup of tea. However, the gaiwan alone does not make a good tea. Following traditional methods using high-quality tea leaves and the proper technique remain key to unlocking the potential benefits of a gaiwan and achieving an excellent tasting tea. The gaiwan enhances the tea drinking experience but does not replace it. With this in mind, a gaiwan can be appreciated for what it offers - more nuanced preparation and a ceremonial element - rather than viewed as solely responsible for better flavor.
Could I use Gaiwan for drinking coffee, milk or other beverage?

The gaiwan is useful for more than just preparing tea. It can also be used for coffee, milk, hot soup, and other drinks. A gaiwan provides the same benefits for coffee as it does for tea. This includes control over steeping time and water temperature, the ability to strain loose coffee grounds, and using a material that does not affect the flavor.

Some people find additional uses for gaiwans as small bowls or containers. They may hold condiments, nuts, candies, or other small items in their gaiwans.

The versatility of gaiwans makes them handy and multifunctional kitchen and tabletop tools. They are not limited to tea preparation alone. Gaiwans can enhance the experience of brewing and enjoying many hot beverages or snacks. Their usefulness comes from providing more control and less interference over flavors while also offering extra storage space. With some creativity, a single gaiwan can serve many purposes in the home.

Whether steeping leaf or bean, a gaiwan brings out the pure essence of a drink without imparting its own taste. This versatility and ability to let other flavors shine through is why the gaiwan has become a popular vessel in many traditions and continues to spread to new culinary customs. There are many benefits to adopting the gaiwan beyond simply preparing Chinese tea.
How to choose the Gaiwan?

Material: Porcelain is the traditional material for gaiwans, and is considered the best option for brewing tea. Porcelain is a neutral material that does not interfere with the flavor of the tea, ensuring that you get the full, authentic flavor of the tea leaves.
Capacity: Gaiwans typically come in small sizes, making them suitable for brewing single servings of tea. Consider the size of the gaiwan and the amount of tea you typically brew when choosing the right size for your needs.
Ease of use: Look for a gaiwan with a comfortable handle and a secure lid that fits snugly on the rim of the gaiwan. A gaiwan with an easy-to-use lid will make it easier to strain the tea and prevent spills.
Aesthetics: Gaiwans come in a variety of styles and designs, and choosing one that appeals to your personal style can make the tea-drinking experience more enjoyable.
Price: Gaiwans can range in price from a few dollars to hundreds of dollars, depending on the material, quality, and design. Consider your budget when choosing a gaiwan, but keep in mind that a higher-priced gaiwan may offer better quality and durability in the long run.
Handmade: Handmade gaiwans are often made by skilled artisans and may feature unique designs, making them a distinctive addition to your tea collection. It also made from higher-quality materials than mass-produced gaiwans, which can result in a longer lifespan for the gaiwan and a more authentic tea-drinking experience. Ceramics and porcelains products in Glorious Collection are mostly handmade products which carefully made under the following 14 procedures: materials selecting, kneading mud, shaping, drying in shade, triming, biscuiting,paint under the glaze, glazing, load in kiln, firing, taking out from the kiln, decoration firing, finished work. 

When selecting a gaiwan, consider your personal preferences, needs, and budget, and look for a gaiwan that offers a comfortable and easy-to-use design, a neutral material that does not interfere with the flavor of the tea, and a capacity that suits your needs.
Is the Gaiwan a great choice for gifts? What's the implied meaning about Gaiwan?

Yes, Gaiwan will be a great gift for parents, friends, business partner or people who enjoys tea. As in traditional Chinese culture, the gaiwan has been viewed as a symbol of wealth, healthy, friendship, good luck and prosperity for a number of reasons:

Porcelain material: The gaiwan is often made from porcelain, a material that was once considered valuable and rare in China. Owning a porcelain gaiwan was seen as a symbol of wealth and prosperity.
Auspicious symbols: The gaiwan is often decorated with auspicious symbols, such as dragons, peonies, and other symbols of longevity and good fortune. Drinking tea from a gaiwan decorated with such symbols was seen as a way of inviting good luck and prosperity into one's life.
Gift giving: In some cultures, giving a gaiwan as a gift was believed to bring good luck in business. The recipient would be able to enjoy a good cup of tea and relax, thereby helping them to make better business decisions.
Relaxation: Drinking tea from a gaiwan was seen as a way to relax and unwind, which was believed to help with decision-making and overall success in life.

It's important to note that these beliefs and meanings are not universal and may vary between different cultural and historical contexts. However, the gaiwan has long been associated with good luck and prosperity in many traditional Chinese cultures. Whether viewed as a symbol of wealth, a source of relaxation, or a gift that brings good luck, the gaiwan has a rich cultural history that is closely tied to the tradition of tea-drinking in China.
Different aesthetic experience

We work with over 100 artisans across 20 different ethnic minorities. Glorious Collection provides customers with a visual feast of oriental minority aesthetic experience. Our handiwork range from traditional tea set, embroidery bags, Tibetan Silver, Mala beads, Thangka, The Miao Silver,to different jewelry with traditional and cultural designs.

Mission

In today's industrialized world, many artisans now struggle with challenging times.By supporting our artisans, sustainable sourcing helps to preserve local cultural heritage. Through prioritizing products made by local indigenous craftspeople, businesses can help with artistic practices and craftsmanship.

Social responsibilities

We apply a portion of our profits to support our artisans, an endeavor we believe will honor both handcrafting heritage and the economy.Sustainable sourcing takes working with indigenous groups and respectfully understanding about their traditional culture to ensure the ethical sourcing of products. This support helps artisans to continue their crafting work and carry forward their cultural traditions to future generations.
Looking for more teaware?