Outdoor Porcelain Travel Tea Cup
Regular price

$159.00 USD

Regular price

$0.00 USD

Sale price

$159.00 USD
Share
The tea cup features a striped design theme, showcasing clear and concise lines, providing a visually simple and intuitive design that effectively prevents scalding.
The set offers four thoughtful color combinations: classic white for a luxurious touch, mysterious and steady blue, simple and fashionable green, and joyful and festive red. The glazed surface presents a matte texture, giving it a rustic and unadorned feel.
The set includes one teapot and two tea cups. The teapot's lid comes with a built-in filtering hole, effectively blocking tea residue. The spout is designed in the shape of an eagle's beak, ensuring smooth water flow. The cups have a rounded and comfortable rim. The overall design of the set is gentle, minimalist, and stylish. It allows for quick and convenient storage without taking up much space, making it easy to carry.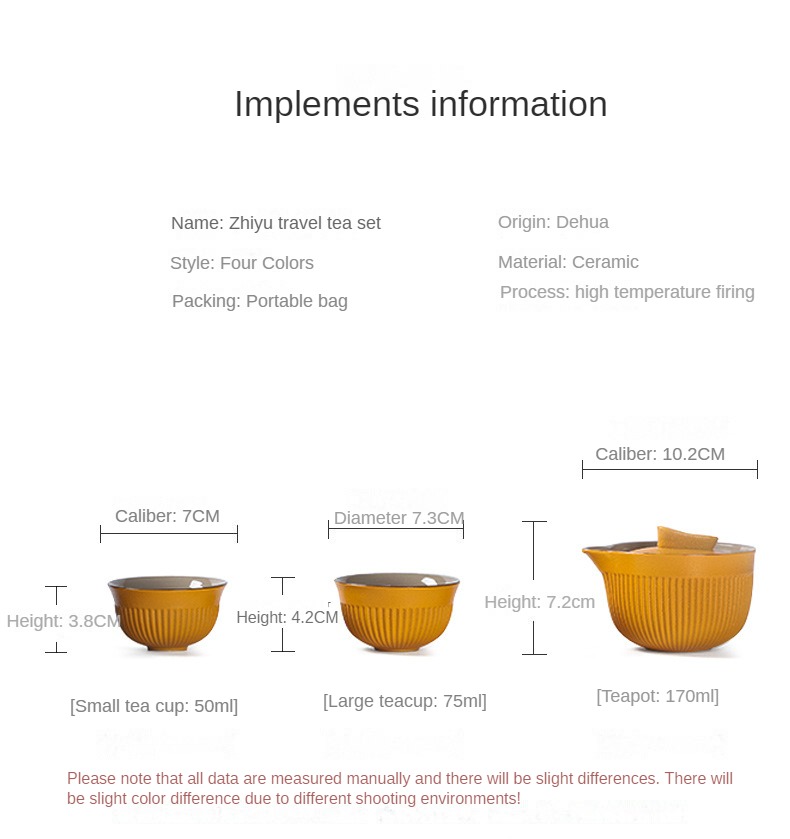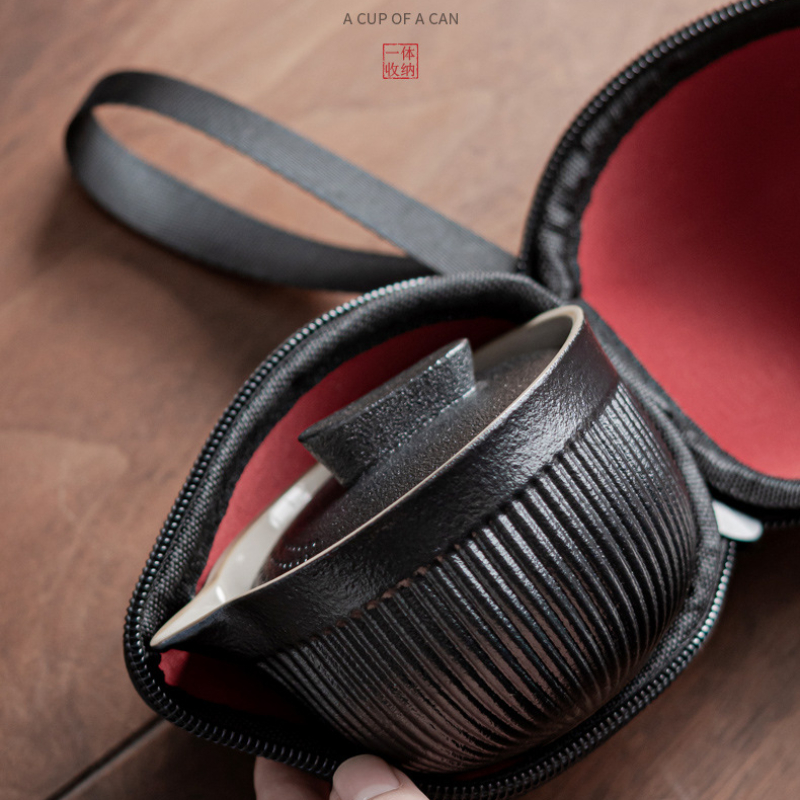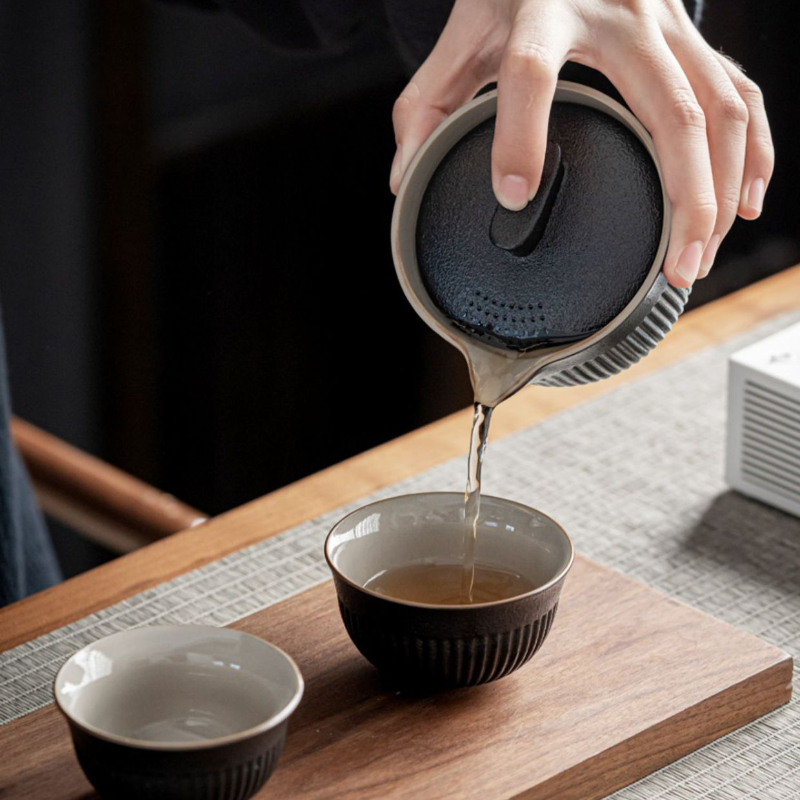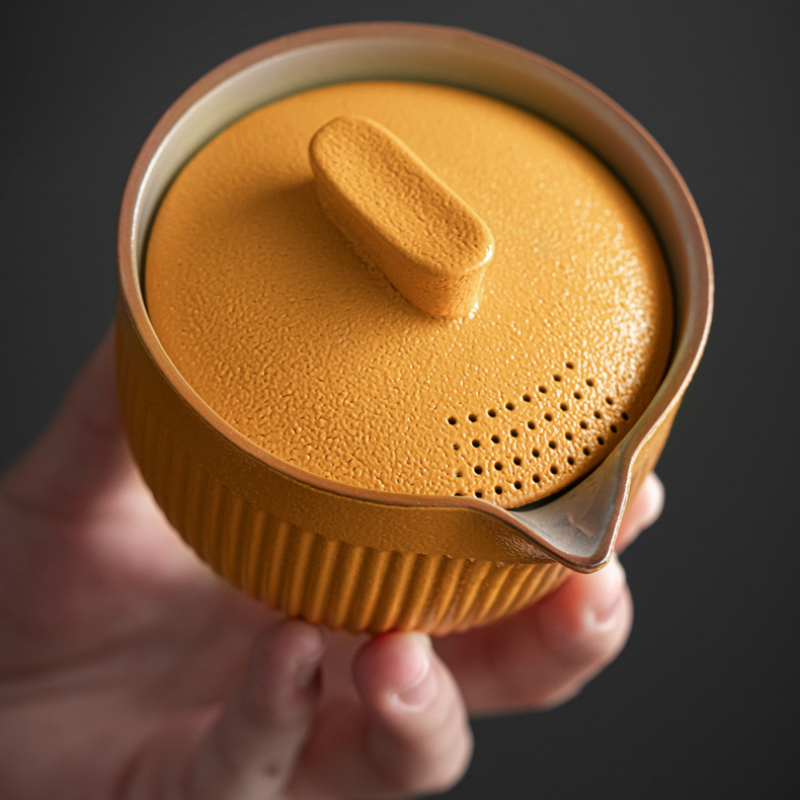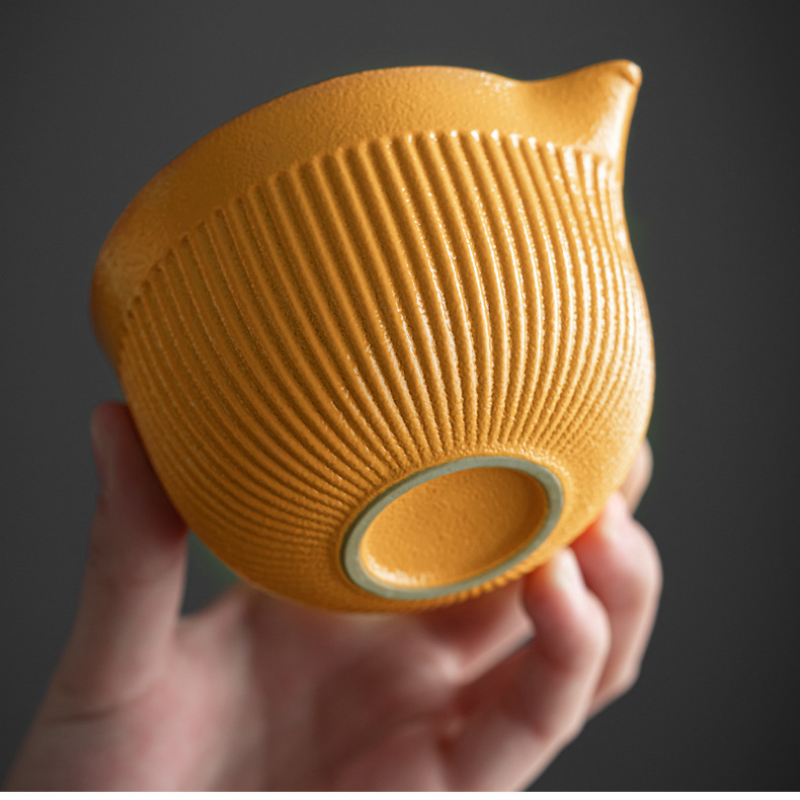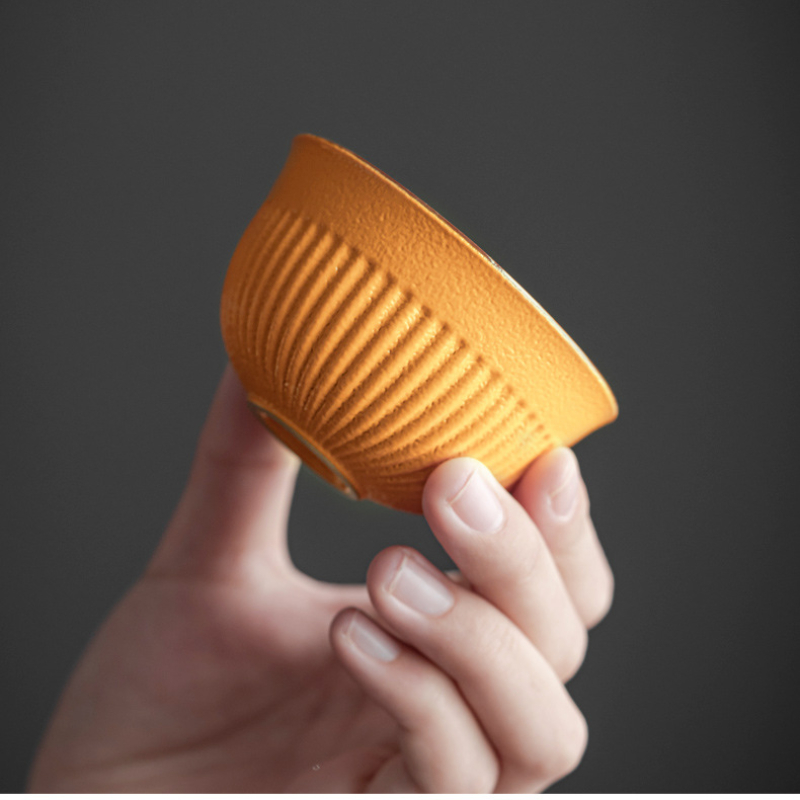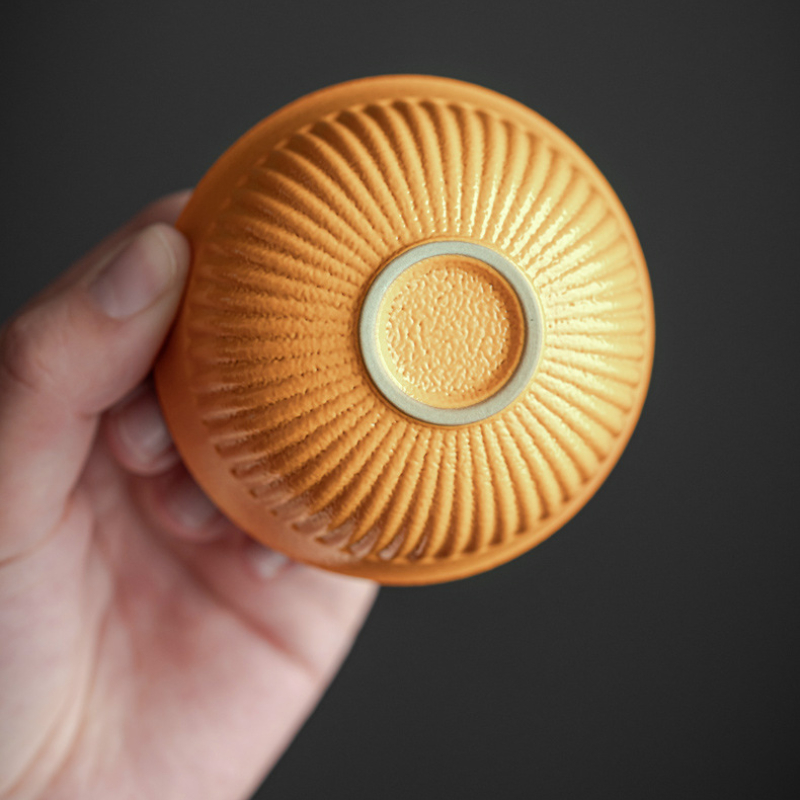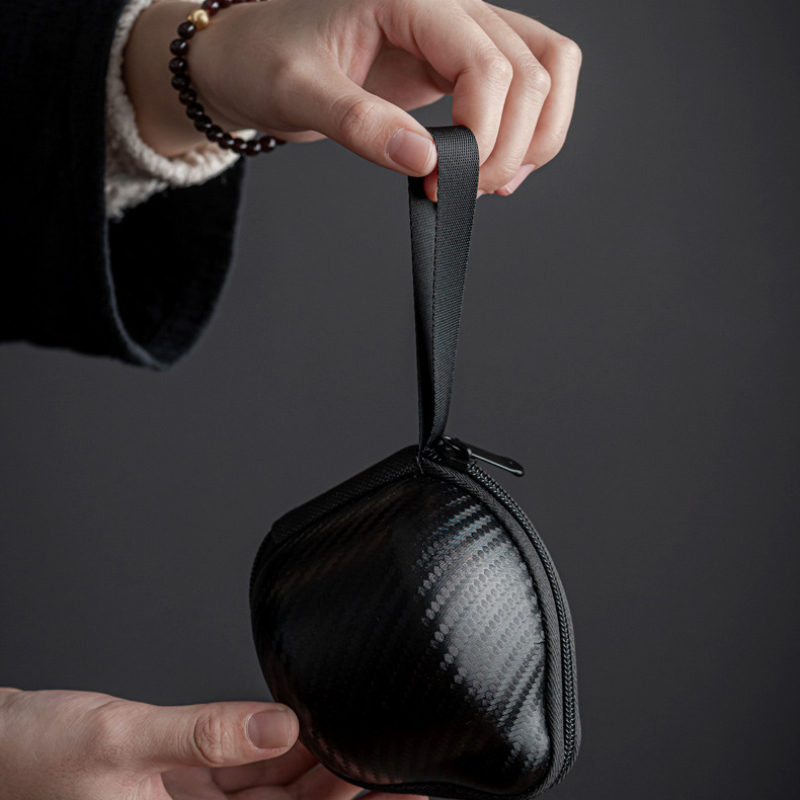 Description

Portable and compact: 

This traveling porcelain tea set is designed to be lightweight and easy to carry, making it the perfect travel companion for tea lovers, you have everything you need to enjoy your favorite teas on the go.

3000 years of handicraft inheritance: 

Ceramic and porcelain products in Glorious Collection are mostly handmade products made from 14 major processes and hundreds of minor processes, fired at a high temperature of around 1300 degrees. Click here to view our handmade craft videos.

High-Quality Material: 

This traveling tea set is made from high-quality porcelain, which is known for its delicate and elegant appearance. Porcelain is also lead-free, durable and can withstand high temperatures, making it an ideal material for brewing tea.

Improve the drinks taste: 

Unlike metal or plastic, porcelain is a neutral & non-porous material which means that it won't absorb the flavors or aromas of the drinks, ensuring that you get the full, authentic flavor of the drinks.

Versatile uses: 

This tea set not only can be used to brew a variety of teas, but also can be used for coffee, milk, hot soup or other drinks, which offers the same benefits as it does for tea.

Decorative Value: 

Beyond its functional use, this Gaiwan tea set is also a work of art that can be appreciated for its beauty and craftsmanship. It may be displayed on a shelf or used as a decorative accent in a room with an oriental or minimalist aesthetic.

Tea Ceremony: 

Using a porcelain tea set is a form of mindfulness practice, helping to focus the mind and cultivate a sense of calm and serenity. The careful attention paid to the tea leaves, the infusion process, and the serving of the tea can all help to create a meditative state and a deeper appreciation of the tea and the tea-drinking experience.

Perfect Gift Choice:

 A porcelain tea set will be a great gift for parents, friends, business partners, or tea lovers. As in traditional oriental culture, the porcelain tea set has been viewed as a symbol of wealth, health, friendship, good luck and prosperity.
Specification

Material: Porcelain
Crafts: Handmade
Shipping

COMPLIMENTARY TRANSNATIONAL SHIPPING

We are currently offering complimentary shipping on all orders $99.99.

 

SHIPPING CHARGES

Standard Shipping- $9.99.

*Please allow 1- 4 days for processing on all orders. 

 

DELIVERY AREA

Currently, Support worldwide delivery.

 

DELIVERY TIME

The product will ship within 1-3 business day after purchase, and delivery will take around 10-20 business days. Delivery may take a longer time in holiday shopping season.

 

SHIPPING METHODS

Please make sure all the shipping information you provide to us is correct. If you need to change your address before your product is dispatched, please don't hesitate to contact us. We will help you contact the relevant logisitcs supplier, but we will not be held responsible for any package damage, loss, or delay caused by incorrect shipping information customers provide nor caused by the shipping carrier during the transportation.

Standard shipping is not available for P.O. Boxes or APO/FPO addresses.

 

TRACK YOUR ORDER

The tracking of your parcel is online traceable. After your order is shipped out, a confirmation email with online tracking number and link will be sent to you. The tracking number will be valid for your check within 48 hours after you receive the email. During Holiday Season, Orders with Standard Shipping will not be traceable when the parcels arrive in the United States. It is because USPS website will no longer update the information about shipping package.

ALL LOGISTICS CHANNEL

ALL-IN-ONE PACKAGE TRACKING | 17TRACK

If you have any questions about the shipping of your order, please feel free to contact us service@gloriouscollection.com

 

WRONG OR FAULTY ITEM

If you check that there is a fault with an item or wrong item you have received, please let us know straight away through our team. Please include as many details including the photos as possible about the order and the problem with the items and we will find a decent way to solve this for you.

 

MISSING ANY ITEMS IN MY ORDER.

As different arrivals of the items, sometimes we don't send all items you've ordered at the same time, so some of your items will be arriving separately. There is an email saying if your items sent separately. So first check your email box and if there are any doubts, please feel easy to contact us at service@gloriouscollection.com

If you have any further questions, feel free to contact us support team: service@gloriouscollection.com
Returns & Refunds

Terms and Conditions:

Items directly purchased from gloriouscollection.com can be returned in 30-days for a full refund or exchanged under the following circumstances:

Missing, Damaged, or Wrong Items.
Please inspect your order as soon as you receive it. We always do our best to deliver your order in an efficient manner and strive to make sure your orders are complete and undamaged. If in the unlikely event your order is missing, incorrect, or damaged, please contact us immediately.
Malfunction or Serious Product Quality Issues.
Take a picture of the defective/incorrect item(s) showing the issue.
Email us at service@gloriouscollection.com

Notes:

30 day Return Policy: If you do not like/are not satisfied with an item within 30 days of receiving it, you can return the item for a refund or an exchange providing it is in the condition they were received in. Products must be returned in the condition they were received in. If products show evidence of installation or user abuse, or are not in a resalable condition when returned, then the user will not be eligible for a refund or exchange. Should you with to make a refund or exchange, you will be liable for return postage costs.

Any item that is damaged through customer misuse or missing parts due to customer tampering cannot be returned or refunded.

Before returning an item, please make sure that you contact our service team at service@gloriouscollection.com, this helps us to make sure your return is received in a safe and timely manner. Should you fail to notify us of a return being made, We will not be held accountable for loss of stock and/or losses incurred due to negligence when in transit.

For non-quality-related warranty claims,the buyer will be responsible for all shipping costs.

Return and Refund Procedure

If you are looking to apply for a return or refund,please email the following information to service@gloriouscollection.com, we will send a confirmation email to you within 3 business days of your request.


Order ID

A description of the reason for your return

A video/image that explains the issue

We will confirm if the package is unopened or not, and will supply a return address to customer.

Customer will then send back the package and device.

Customer must then provide a tracking number for their delivery.

Our processing centre will confirm there are no issues with the return.

Refund will be processed.

Cancellation

The customer can cancel the order before the goods are delivered.
Payment Methods

Pay with Shopify Payment

 

When you pay with a credit or debit card, you need the name printed on the card, the card number, the month and year the card expires, and the 3-digit or 4-digit security code. This information, along with the billing address for the credit card, must be entered during the purchase process. We accept the credit/debit cards listed above. Please note that Glorious Collection does not save your credit/debit card number or personal information entered into the payment fields when you make a payment. For questions regarding your transactions on your credit/debit card, please consult the bank that issued your credit/debit card.

Pay with Paypal

 

When you choose to pay for an order via PayPal you will be redirected to the PayPal payment page, where you can log in with your PayPal username and password. If you do not have a PayPal account, or if you do not want to use your PayPal account, you may still pay via PayPal, by clicking on the "Pay with Debit or Credit Card" option on the PayPal payment page, and you will be redirected to a secure page where you can first enter your email address and then enter your credit card information to complete your payment safely via PayPal.

If you have any further questions, feel free to contact us support team: service@gloriouscollection.com
Apply My Discount

Subscribe Us-Get 10% OFF

Unlock exclusive benefits by subscribing. By becoming our subscription member, you will receive our exclusive event offers and gifts, and quickly learn about our new products and news.

How to Claim Your Discount?

When you successfully subscribe to our email, we will send you a 10% discount code via email.

Add Our WhatsApp-Get 10% OFF

Add our WhatsApp and you will be able to solve your after-sales problems up close. And we will have exclusive membership activities open to you. You will have the opportunity to get a bigger discount and the chance to become our partner.

Chat with us: +1 659 2532919

How to Claim Your Discount?

When you have successfully added our WhatsApp, you initiate a conversation with us to apply your exclusive discount.

Follow Our Social Media-Get 5% OFF

Our social media platforms will update from time to time to let you know more about our products and unlock more fun ways.

How to Claim Your Discount?

When you successfully follow our social media account. You can apply for a discount through Inbox, and we will provide you with an exclusive discount code. Or apply for a discount through our customer service.

Email us: service@gloriouscollection.com

Chat with us: WhatsApp: +1 659 2532919
Different aesthetic experience

We work with over 100 artisans across 20 different ethnic minorities. Glorious Collection provides customers with a visual feast of oriental minority aesthetic experience. Our handiwork range from traditional tea set, embroidery bags, Tibetan Silver, Mala beads, Thangka, The Miao Silver,to different jewelry with traditional and cultural designs.

Mission

In today's industrialized world, many artisans now struggle with challenging times.By supporting our artisans, sustainable sourcing helps to preserve local cultural heritage. Through prioritizing products made by local indigenous craftspeople, businesses can help with artistic practices and craftsmanship.

Social responsibilities

We apply a portion of our profits to support our artisans, an endeavor we believe will honor both handcrafting heritage and the economy.Sustainable sourcing takes working with indigenous groups and respectfully understanding about their traditional culture to ensure the ethical sourcing of products. This support helps artisans to continue their crafting work and carry forward their cultural traditions to future generations.

Looking for more teaware?